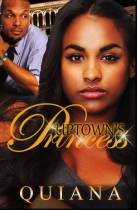 So this book automatically introduces you to all the characters. Well, at least the main characters. Princess and Kia are at a club living it up for the last time and are being eyed by this cat named Mace. He automatically has a thing for Princess and you can just see it or read it. On the outside, Mace is the perfect gentleman. Princess, in turn feels it too and what started in the club seems like its going to be a long term thing. I read this and thought it was going to be your typical love story because these two characters moved really fast as far as the progression of a relationship. You get to see how strong the bond between the two cousins are when you see Kia leaving for college and leaving Princess there for the first time in years.
When Mace and Kia have left, she ends up turning to her ex for attention. She does feel guilty, but that moment quickly passes in her mind. Princess finally get the phone she has been waiting for and goes to see Mace where he dumps a trip
to Las Vegas in her lap.