Stories to Excite You by Ken Divine & Anna Forrest- Book Review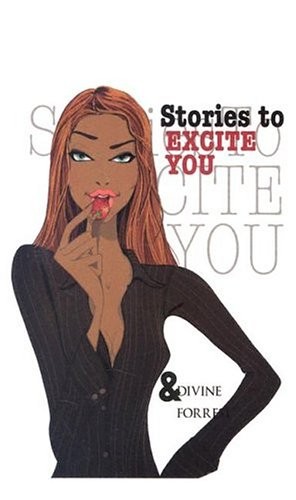 Now, I have always loved my short stories by Zane and she will always be the queen in my eyes. This book holds a close second to me though because it was just as erotic and proably more raunchy than just about any book that I read. It had boldness, sex appeal, all mixed in with just the right amount of love to make each story in this book come to life as if it was really happening. I just had one question for these authors. Where do they live so that I can move into this complex community. There were a lot of short stories in this book that I am not going to name them all. You are just going to have to read the stories and see for yourself how good of a book this is, but here are some of my favorite reads from this book.
Jackie: if you have real feelings for someone, don't let the moment pass you by.
Sow Her Oats, Plant His Seeds: Secrets, secrets and what do you know more secrets.
Birthday Celebration: She got a birthday to remember. I was jealous
Beautiful Music: a different take on love & sex
Search Engine of Love: story moved quickly but you see that attraction is something you should act on whenever you get ahold of it.
Kiss Goodbye: sometime you just have to shut and pay attention
Me and the Girl Next Door: age ain't nothing but a number
Have Faith in Rome: Literally, when in Rome. Hey, why not?
The Official Scores: Love and Basketball
Lady Baller: Longest and cutest story yet when it came to romance
More than a Crush: Hey Lover by Boyz 2 Men with LL Cool J
Pleasure Apartments: the weirdest arrangement I have ever read
Anything for Neicy: surprising twist with a wife who is willing to go above and beyond for her man
You Send me Swinging: First time swinging
Working Together: Had me wondering if this was a true story or not
Yeah, Just Like That: it all started with a video rental
Tongueandcheek.com
These were by far my favorite, but if you had any other stories that you thought were better than these. Please feel free to leave me a comment on some your favorites and why . If you haven't read this book then I suggest you get this book and read up on it.
Book Details
Book Listing
Title: Stories to Excite You
Author: Ken Divine Anna Forrest
Publisher: Genesis Press, Incorporated
Published Date: September 13, 2004
ISBN-10: 1585711039
ISBN-13: 978-1585711031
ASIN: B006G8DMY6
By accepting you will be accessing a service provided by a third-party external to https://authorsinfo.com/