Rock City 2 by Kaliyah Knight - Book Review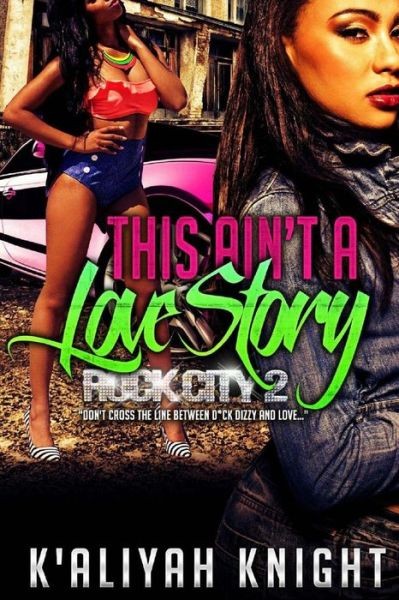 We come back to the streets of the H and its dirtier than ever. You get introduced to the veterans of this game and are given a more in depth look at some character that were in Rock City One, but didn't play that huge of role. When I started reading this, I was straight confused because it shows you one scene and then takes me back to the present day. I must say, this book was so good that I couldn't wait to get in the third Rock City. But before you do, take a look at this second because there will be twist and turns in here that you didn't see coming.
Of course, we go to the main character Rockwell and to my shock and amazement, she wasn't with Rico. In fact, she wasn't even looking at Rico like that anymore. Issac was still in the picture as Rockwell was dating him exclusively. Rockwell is making a relationship work with Issac at the start of this story in part of Rico going ghost for months. She is also managed to get into fashion school and do what she loves most.
The start of this book leaves wanting to read more of it to fill in the gaps Rico is trying to come up and knock Marcel off his throne and still has strong feeling for Rockwell despite her pushing him into the friend zone. As nice as Issac is to her and I mean nice. He still has a little secret of his own
Rico decides that he has to get his hustle and money right before he start to actively start pursuing Rockwell but that doesn't stop him from protecting her at every turn. You also get a better look at Leelee who is married to Marcel and you see that their marriage is not picture perfect. Of course Rockwell and Rico can't get enough of one another no matter how hard they seem to be. They still hang out with one another when Issac goes back to school.Issac tries to thwarts Rockwell from coming to his dorm for secret reasons and you find out he is failing a class, now he may not be drinking but he has found a new drug. Rockwell finally ends up seeing Issac for who he really is when she surprises him at school, they break up quick and she finds herself in the arms of Rico just as fast but a ho interrupts that smash. Rockwell decides to just think about her while both of these men are thinking about her.
Leelee finds herself in a situation with her husband Marcel but is saved by his best friend Big Bo so she ends up giving in to that jones with minimal fight. Rockwell is still on this sexual liberation tip and I got to say its really not like her, Rico tries to reel her in but is always unsuccessful. Leelee im start to feel sorry for because her husband is paranoid asshole
Rock and Rico finally give in to the jones but Rock comes back to her senses when she ends up losing a good thing,but Rico is determined to keep her. Leelee is confusing the hell out of me one minute she is banging her mans best friend and the next minute she is banging her man. Rock and Rico and are starting to feel the pressure as well as they have claimed a relationship and Rico is showing his ass. I'm still trying to figure out Rico' angle. I know he wants to take down Marcel but how is he doing it is my question. Right when I think Rock has had enough Rico has a way of pulling her back and it makes me wonder if these two are really good for each other.
And all of this is really only the tip of the book. I mean, there are so many up and downs in this book they will have your head turning left and right to just keep up. My favorite character is Rockwell and my confusing character is Leelee. With the both of the them in this book, I never had a bad day. I do have one question for the author though and if you want to know what it is, don't forget to watch my video. All my love, peace out.
Book Details
Title: Rock City II: This Ain't a Love Story
Author: K'Aliyah Knight
Publisher: CreateSpace Independent Publishing Platform
Published Date: July 10, 2014
ISBN-10: 1500734373
ISBN-13: 978-1500734374
ASIN: B00LPPDVZK
By accepting you will be accessing a service provided by a third-party external to https://authorsinfo.com/