Authors of the Books We Read
Interview with Vic Fortezza about the challenges of publishing in today's market
Vic Fortezza was born in Brooklyn in 1950 to Sicilian immigrants. He has had more than 50 short stories published worldwide. He has five books in print: novels Close to the Edge, Adjustments, Killing, Exchanges, and story collection A Hitch in Twilight. He was employed in data entry in the commodity trading business in Manhattan for nearly 25 years, until 2007. He stills lives in Brooklyn, where he promotes his work on the streets. He has accounts at several social media sites. Many of his short stories are available on the web for free. Google his name to find them.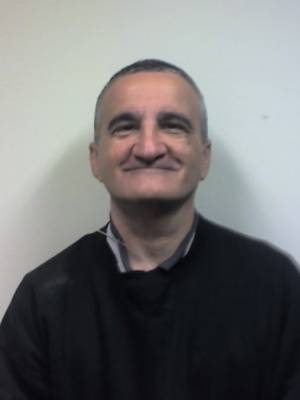 Author Oana: What drives you to write and publish books?
Vic Fortezza: I try to make sense of the bittersweet mystery of life. I suppose recognition is a big part of it. And, of course, the hope of someday making a decent living at something I love.
Author Oana: What was the most valuable source of information for you as a (self) published author?
Vic Fortezza: The internet. I owe a great debt to two friends who constantly suggested I go online. Without the ease of electronic submissions, I might have abandoned the literary quest long ago. Using snail mail, I sometimes would not hear from a publisher for up to a year. There were times I wanted to rip my mailbox apart. On the web, I've frequently heard from publishers the same day, and a lot of the responses were positive, including acceptances of stories and full length manuscripts.
Author Oana: What is the most challenging part of the (self) publishing process?
Vic Fortezza: Whether it was the one book I've self-published or the four that were published by small press, the most challenging part is promotion. I've taken advantage of free publicity, such as Facebook, Twitter, Google+ and, each day that weather allows, I promote my work on the streets of my home town, Brooklyn. With nine million books available at Amazon, a writer can't sit back and expect his books to stand out on the basis of web presence.
Author Oana: Have you ever had an unpleasant publishing experience and if so, what did you learn from it?
Vic Fortezza: Fortunately, my experiences have been positive. Although I've lost money on my self-published novel, Close to the Edge, I have managed to sell 355 copies, and I learned a lot. If I had bought copies in quantities of 100, I'd probably have broken even. I did buy 200 of my second, Adjustments, and still have 75 left, so it too is operating at a loss. My third and fourth are profitable. My fifth has been out only a few months, but looks like it too will be profitable. I wish I had more web sales so that the publishers who took a chance on my work would be rewarded, although I suppose they get a cut of whatever I spend on buying my books.
Author Oana: Printed book versus e-book. Which one your readers buy most?
Vic Fortezza: Printed, although I've had several Kindle sales lately. Any sale is appreciated.
Author Oana: Please tell us about your marketing venues.
Vic Fortezza: Four of my books are available at Amazon, three at Barnes and Noble.com. I've noticed that they're also available at a lot of other web venues, too many to mention. I also have a screenplay and a short story available as Kindles. Facebook has been one of my best tools. I've mailed signed copies to many old friends and acquaintances. I deliver copies personally in Brooklyn, Manhattan and Queens and, as I've said previously, I try to sell copies every day on the street. My second novel, Adjustments, is available only through an email order, social media message or street sale.
Author Oana: How long does it take for an unknown author to "get their name out?"
Vic Fortezza: I'm still working on it and probably will be until I shuffle off this mortal coil.
Author Oana: Will e-books replace paperbacks?
Vic Fortezza: In 30 years or so I think prints books will be like vinyl records are today, available but increasingly rare. I doubt I will ever use a Kindle.
Author Oana: Do reviews play an important role in promoting and selling a book?
Vic Fortezza: It's a tough call. I've had a hard time getting readers to rate my books at Amazon. I did send copies of my first novel, Close to the Edge, to reviewers. I'm not sure it led to any sales. I haven't done it since. I did not pay and would not pay to have one of my books reviewed. I will say that those who rated my fourth novel, fifth book, Exchanges, at Amazon, did boost sales momentarily, but that is more likely due to interest about our shared experience of having worked on a commodities trading floor. Right now my mindset is to get as many copies as possible of my books out there and hope it eventually creates a word of mouth groundswell.
Author Oana: What is the biggest mistake to avoid when (self) publishing?
Vic Fortezza: Unrealistic expectations. The odds of a major breakthrough are so long. The best approach is to trust one's instincts and hope for the best. And one must be dogged in revision. A work of art is never 100% finished, but there is a point where it must be let go.
Author Oana: Thank you for sharing your experiences with us.
Links to Vic's works:
Vic's 4th Novel
Vic's 3rd Novel
Vic's Website
Vic's Short Story Collection (Print or Kindle
Vic's 2nd Novel
Vic's 1st Novel
Vic's Short Story on Kindle

Click here for Author Oana's website
Related Posts
By accepting you will be accessing a service provided by a third-party external to https://authorsinfo.com/