His Wicked Seduction - Book Review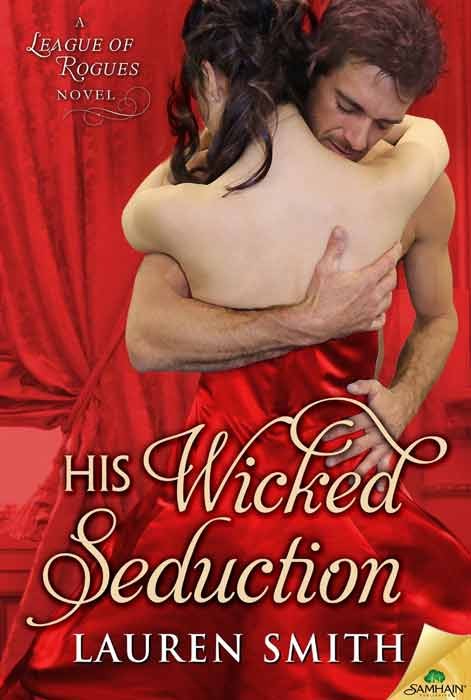 This book starts off with a little rule and newspaper section, but before you decide to put this book down, continue reading it gets better. You meet this guy named Lucien and he is mad stalking this young lady named Horatia. I don't know whether it's lust or love but he definitely has a thing for her, but for some reason, he can't have her. He finally gets a chance to catch up to her and right when you think he gets that chance a carriage comes straight for him causing Lucien to save Horatia's life. Him and his friend Charles decide to escort her home after the incident. You also get an explanation of why these gentleman are called the league of rogues, but there is a deeper meaning behind their bond or friendship as well. Cedric invites the league over after the incident and a reluctant Lucien ends ups going. After the dinner, you see some released tension followed by the typical man opening his mouth and saying something really stupid. Lucien knows what he did was wrong and decides to make it up to her. Charles catches wind of Lucien being up to something and rather just tell him the truth, Lucien kind of half lies just to get to defend this whole second rule amongst the league. Charles see right through him, though.
With the threat of their enemy looming, Lucien decides to take Audrey out on errands, with the permission of Cedric of course. With the help of Horatia's sister, Lucien is able to not just get her the same dress, but something better. These two actually have a past and you start to see why Lucien has this overwhelming need for her, well kind of. The authors guides you into how it started, but I didn't really see why he had this need for her now. Horatia is the type of woman that Lucien doesn't really go for or the type of women that society see him around, so I found it funny that he wanted her. To me, Horatia was a lady, a young lady, but the type of woman that didn't want to put up with Lucien's ways. Whenever these two are alone they find a way to subtly take advantage of it but find themselves holding back due to rules and virtues. After trying to fight it, Horatia gives up and starts to come up with a plan that will make Lucien see her as more than her friend's sister.
Meanwhile, in Lucien's househould, one of his brother comes by and tries to get him out of his rut, which works. They end up meeting in this place that specializes in what they both have in mind and recognize each other of the bat, but neither one of them are ready to own up to it yet. So they continue on with what they both want and this time not worried about what society is going to think of them because society will never know. This scene was so seductive to me and showed so much restraint on Lucien's end. Here they were and all Lucien wanted to do was open her up to passion and he did very well I might say. But with all this love going around, there are secret deal afoot that could cause a life to be taken.
Meanwhile, Audrey is hatching a plan of her own to get a certain gentleman to notice her. She uses Charles to speed things up, but it doesn't work. In fact, it got a chuckle out of me with how she went about it and where Charles decided to give her some words of advice and even help her. Ashton gives some Cedric some words when it comes to marrying his sisters off to specific gentleman and just in the nick of time too. Meanwhile, Lucien gives in to this coup after learning some life threatening damage and tries to make Horatia see that she is no good for him. She doesn't believe him and after this night, she wants to give him more.
So once everyone is at Cedric's house the girls and the guys are separated due to the scene that they walked in on with Cedric ready to punch Charles's lights out. While separated they both find out the jist of what is going on and each gender makes their own plans of protecting their family. The girls even go so far as to naming themselves. Once the dust is settled you start to see both ladies go into heated battles for the ones that they love, but one is cleary going after what she wants and the other is letting her heart speak for her. Lucien comes to the opposite reaction I was hoping for and decides to put the one he clearly loves at a more permanent distance. Right when he has the perfect plan to free himself of her, he ends up being put right in love's way. Two of the Rogues go back to where Lucien said he heard the threat hoping to get more information, but all they really get is a bullet in the shoulder. The four of us get to Lucien's little getaway and greeted with his mother and youngest brother, who are a bit surprised that they were all showing up. Lady Rochester sees a match with Horatia and Lucien and is quick to tell Horatia of her plan. Once the past is settled, Horatia is hopeful that Lucien will come to love her completely.
You finally meet this guy Waverly and he is on a revenge streak, his target is the League of Rogues. You would think his role would be small, but don't even think this far. This guy has deep connections and even deeper pockets. You see his plan starting to unfold, a little bit.
Fast forward back to the Rochester house and Lady Rochester has told Lucien the truth and instead of confronting Horatia on it, he goes for a ride that lands him unconscious. Horatia is the first to find Lucien, naturally. Lady Rochester involves three of her sons to play this game called get Lucien to like Horaita. The next morning, Lucien goes to exact some revenge on his brothers for their little prank, but end up being surprised with a snowball fight. After the snowball fight, Lucien and Cedric get a message from Charles and Godric detailing what has happened in their abcense. The men give the girl the news and Horatia is devasted and walks off into the cold night air. She is chilled to the bone when Lucien finds her and then it happens. Yes I shed a tear, because it wasn't what I thought it was. It just felt primal, real, love. Had me wanting what they had. Cedric starts putting the pieces together with the help of Audrey and does not like what he is hearing. That doesn't stop Lucien and Horatia from going at it and you see there a lot of things that were a first time for each other that made their love deeper. Lucien finally has to man up to Cedric being that love gave him no choice. Cedric doesn't take it all too well and goes to the extreme.
Book Details
Book Listing
Title: His Wicked Seduction (The Leagues of Rogues)
Author: Lauren Smith
Publisher: Samhain Publishing, Ltd.
Published Date: November 11,2014
ASIN: B00NQSZF4Y
Stay Informed
When you subscribe to the blog, we will send you an e-mail when there are new updates on the site so you wouldn't miss them.
Comments
No comments made yet. Be the first to submit a comment