THE LILY POND, THE JAPANESE BRIDGE by Claude Monet and Sal Buttaci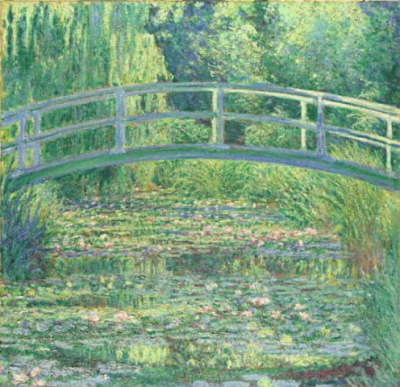 THE LILY PAD, THE JAPANESE BRIDGE
Painting by Claude Monet (1899); Poem by Sal Buttaci (1994)
Who could imagine what Monet was thinking
when he took his brush to this!
Ask him what inspired him 
and he will no doubt lie,
say "The Japanese Bridge"
or "The lily pond: the way the lilies
sit on the brown river" or
"The mood I was in, the feeling 
I have captured in this work."
It is true Monet one afternoon 
came to the bridge,
to this lily pond, 
an easel under his arm,
paints and brushes in a wooden box.
For a moment he surveyed the scene,
thought it peaceful,
but would have moved on 
had he not heard a frog croak
in the intricacy of the lily pads,
stretch its legs, leap into the air
and dive into the brown river water.
The painter stood there,
concentric water circles 
like the spin of a child's pinwheel
mesmerizing him.
Only seconds before 
nothing moved here,
he thought to himself.
How peaceful!  It is already a painting,
another scene for memory:
The arc of the bridge, 
the unmoving lilies,
the foliage, the hanging trees,
the water reflecting the stillness--
I could let it be,
walk away, look elsewhere. 
Monet waited for the frog to surface
but before long the quiet returned
and it was once again as it had been.
Already the painter was laying down his coat
on dry grass, mentally mixing the paints
before setting them down on his easel.
His hands trembled: a good sign.
He would not leave here until
he captured on canvas what once 
he thought did not need capturing.
"There is no stillness anywhere!" 
he said out loud 
as though it were revelation.
"Life does not stand still.
 Within the peaceful stirs movement,"
he said, brushing down the grey undercoat,
stroking in the shapes and forms and movements
of yellow, green, and brown. 
Not until he put his paints away,
and shook the thistle dust from his jacket,
did Claude Monet hear again the plunk and splash,
the brown waters wriggling to life again,
the floating separation of lily pads.
From the water only the head 
of a bullfrog re-emerged,
its tongue unfolding beneath a swarm
of hovering dragonflies.
                      # 
The above poem first appeared in my book Impressions: 13 French-Painting Poems (Saddle Brook, NJ: New Worlds Unlimited), 13-14.
Salvatore Buttaci's two collections of flash fiction 200 Shorts and Flashing My Shorts are both published by All Things That Matter Press and are available in book and Kindle editions at http://www.kindlegraph.com/authors/sambpoet  
His new book If Roosters Don't Crow, It Is Still Morning: Haiku and Other Poems http://tinyurl.com/76akl73
Buttaci lives in West Virginia with Sharon, the love of his life. 
Related Posts
By accepting you will be accessing a service provided by a third-party external to https://authorsinfo.com/