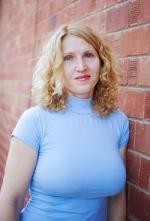 Contact
Email:
This email address is being protected from spambots. You need JavaScript enabled to view it.
Born in Bucharest, Romania, Oana lived twenty years under the grotesque dictatorial regime of Ceausescu. After the fall of the communism in 1989 she studied languages at the University in Bucharest, then received her Master's at the Jagiellonian University in Krakow, Poland. English is her third language. She has worn many hats, working as a translator, as a teacher, and eventually caring for animals both domestic and wild. She volunteered and worked for wildlife rescue and rehabilitation centers both in the US and Canada.

She lives in Arizona, where she continues to dedicate most of her time to her animals and to writing.

Her current projects include a memoir titled, Romanian Rhapsody, a children's book,Dr.Schnauzer and Nurse Lhassa as well as numerous scripts and unfinished short stories :)
She is also an active member of Central Phoenix Writing Workshop and a co-host of It Matters Show


User reviews
There are no user reviews for this listing.