The Cartel 4: Diamonds Are Forever ( Cartel #04 )
The Cartel 4: Diamonds Are Forever ( Cartel #04 )
Hot
Monique C Humphries
Updated
January 06, 2015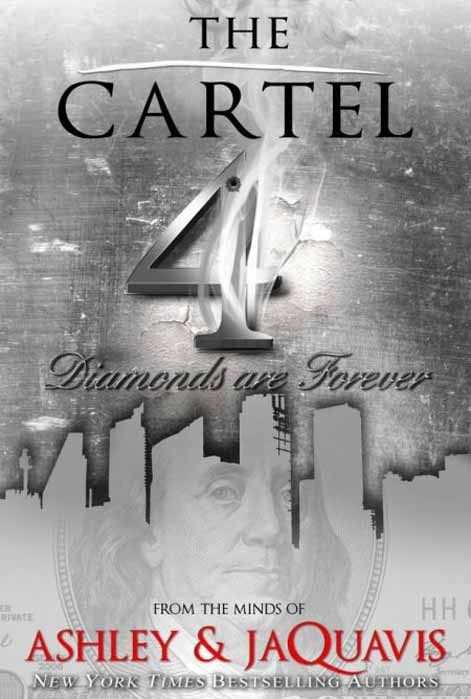 Book Details
E-Book ISBN:
978-1-6228-6018-0
Published Date:
October 03, 2012
The Diamond family has survived murder, deceit, and betrayal. Through it all, they're still standing tall, and a new era has begun. After surviving a failed attempt on her life, Breeze has moved into the queen's position by Zyir's side. Zyir has taken over the empire and locked down Miami's streets; the world is in his hands. But there is always new blood ready to overthrow the throne. Young Carter has retired and moved away from the madness -- that is, until he gets an unexpected visitor at his home. This person shakes up the whole family, causing chaos that threatens to bring down the Cartel for good.

The Diamond family have survived murder, deceit and betrayal. Through it all, they're still standing and a new era has begun. Young Carter has retired and moved away from the madness - that is, until he gets an unexpected visitor at his home. Jaquavis Coleman, Ashley Antoinette, @novelista, The Cartel 4, Diamonds Are Forever, Cartel #04
Editor review
The authors brought all of my favorite characters back for a whirlwind of a ride in the Cartel 4 by Ashley and Jaquavis. If you haven't read the first three I suggest you close this tab, go and read them and come back at me. All the hidden unanswered question are revealed and a few surprising characters return for some eye popping reveals

In the privacy of his home Carter keeps his relationship with Mia a secret from his family and for good reason really. He accepted Mia and all her ways and didn't know how to present that to his family. I loved how the authors showed the boundaries of Carter and Mia because even though she came back, Carter wants to trust her and Mia would follow him to the ends of the earth. They have magnetic pull to each other because their hearts were in it from the very beginning.

Take a step back from returns and relationship and you get to see the inner working of what Money left behind with Zyir and Carter and from jump these two don't like each other and when I mean don't like, let's just say Money is his father's son to heart when it comes to Zyir. If you hadn't noticed it by then this Money is a completely different person. These three men are all in the same dealings in Miami but one isn't family, one can't stand that fact, and the other is maintaining the peace or at least trying to.

In a sense, the stresses of ruling the Cartel has gotten to Carter and add to that the return of a family member you would think things should run smoothly. Things go from ok to bad to when the product that they are selling starts to run dry and goes from bad to worse when their connect disconnects from them. To me, Money was becoming selfish in a way because I understand wanting to get his power back but he was stepping on toes and going behind people more so family's back in order to get it. Carter comes to a decision to handle the problem himself and as an added factor he brings along his girl since she can't stay still without him.
All the secrets that needed to be revealed in order for the family to become as one are brought to light and you would think that it would make them stronger, but it has the opposite reaction. . Of course everything goes wrong and Money makes his point clear and forces Carter to choose between his loyalites. I thought that was funny because Carter was the king, he just let Zyir run the business in his place and to me I don't think he needed to choose just tell Money that he still runs the game. But the authors took it to a whole other level of awesomeness.

Because of Carters unexpected visit in Cali, he brings unexpected neighbors to his front door and knows things need to change and quickly. The end of this book promptly leads you into the next book for this series. Money, Carter, and Zyir get in a jet headed for the Bermuda triangle while leaving the ladies of their lives Breeze, Mia, and Leena to the FBI drama being that they are the only leads they have. So there you have it. My views on everything and breakdowns of everything. If you haven't read this book, I suggest you do so now

User reviews
There are no user reviews for this listing.