Supposedly Broken (Delphine Publications Presents)
Supposedly Broken (Delphine Publications Presents)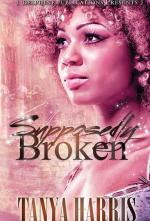 Book Details
Published Date:
April 29, 2014
Returnable:
This item is Returnable
The Turner cousins were damaged by tragic childhood experiences that no amount of time or therapy could erase. Zakia would always remember the feel of her stepfather's breath against her skin, Marisa would remember the images of her mother's bruised face that seemed to never heal and Randi will forever hear the sound of her parents constant rejection. These embedded memories of pain became the foundation of the protective barriers that framed their adult lives. It's not until an unexpected death occurs that they realize that those barriers that were built to protect them from pain, also shielded them from happiness. As you get to know them, you will sympathize and empathize with their pain, ignite your anger at its source and fall in love with the end results.
User reviews
There are no user reviews for this listing.