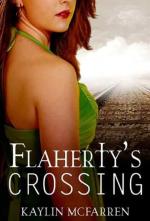 Book Details
Published Date:
February 01, 2010
Original Title:
Flaherty's Crossing
Returnable:
This item is Not Returnable
Contact
Email:
This email address is being protected from spambots. You need JavaScript enabled to view it.
Successful yet emotionally stifled artist Kate Flaherty stands at the deathbed of her estranged father, conflicted by his morphine-induced confession exposing his part in her mother's death. While racing home, Kate's car mishap leads her to a soul-searching discussion with a lone diner employee, prompting Kate to confront the true reasons her marriage hangs in the balance. When her night takes an unexpected turn, however, she flees for her life, a life desperate for faith that can only be found through her ability to forgive. Kaylin sat before her computer writing FLAHERTY'S CROSSING as a source of personal therapy after losing her beloved father to colon cancer. You might say she was angry at him, at God, at the world in general. However, after writing this story, she had the opportunity to really look into her soul and consider the fact that so many other sons and daughters have had to deal with similar and even worse situations. Rather than a memoir, her novel evolved into a fictional journey which brought about the resolution she needed to find. She never expected this exercise in writing to go to press, touch lives, or win literary awards. But as a result of her good fortune, she has arranged for proceeds from the sale of this book to go directly to the Providence Medical Foundation's colon cancer research department in her father's name. She's now convinced and proudly shares her belief that good things can grow out of the worst times in our lives if you just take the time to open your heart.
User reviews
There are no user reviews for this listing.