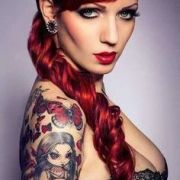 Reaper's Property (Reapers MC)
Hot
Book Details
Published Date:
January 09, 2013
Original Title:
Reaper's Property
Returnable:
This item is Returnable
Marie doesn't need a complication like Horse. The massive, tattooed, badass biker who shows up at her brother's house one afternoon doesn't agree. He wants Marie on his bike and in his bed. Now. But Marie just left her abusive jerk of an ex-husband and she's not looking for a new man. Especially one like Horse—she doesn't know his real name or where he lives, she's ninety percent certain he's a criminal and that the "business" he talks with her brother isn't website design. She needs him out of her life, which would be a snap if he'd just stop giving her mind-blowing orgasms. Horse is part of the Reapers Motorcycle Club, and when he wants something, he takes it. What he wants is Marie, but she's not interested in becoming "property of". Then her brother steals from the club. Marie can save him by giving Horse what he wants—at home, in public, on his bike… If she's a very, very good girl, she'll get lots more of those orgasms only he can offer, and he'll let her brother live. Maybe. A Romantica® contemporary erotic romance from Ellora's Cave
Editor review
Character Development
5.0
This is a must read series!

HOLY HORSE!!!!!!!!

I have to say that I devoured this book in about 8 hours between work and home and cooking I could not out this book down. My Kindle started to die and I rushed over to plug it in. Lord I love these biker stories. These strong men who have sense between right and wrong but live life by the code of the club and road. Plus this book was so full of steamy hot sex scenes I dam near died from reading some of them. I was tempted to go down the street to the biker bar where I live and pick me up a biker just to test the theory! Bawhahaha I sure do love a man on a bike.

Marie is trying to escape her abusive husband so she goes back home to her mother's trailer where her brother lives as well. That is where she meets Horse a biker who has business with her brother. Horse is rude and crass and calls Marie sweet butt which is a biker whore and she flips out on him. The chemistry is there but Marie is trying to steer clear of Horse because she knows he is trouble. It is harder than she thinks and when her brother is in trouble because of his craziness the club decides he must be punished.

Horse likes Marie and he wants her to be his old lady and ride on the back of his bike and in his bed but he can't deny that Marie is a feisty mama and she will not go to him easily. Then when her brothers life is in danger she decides she will do whatever it takes to save him even if that means living and playing house with the devil himself.

What will Marie chose? What will she do about her brother? This was a great read and I recommend it to EVERYONE!!!!!!!
Pros & Cons
Cons
Okay so let me start by saying that this book has crude language and sex scenes that are inappropriate for anyone 17 or under. The way Horse and the other Bikers talk is rude and crude and may be offensive to others.

This is a con for some but I LOVED IT!
User reviews
There are no user reviews for this listing.