The Order of the Four Sons, Book I
The Order of the Four Sons, Book I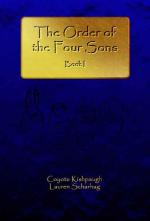 Book Details
Published Date:
September 11, 2009
Returnable:
This item is Not Returnable
Since before recorded history, the Order of the Four Sons has existed. From their beginnings in ancient Egypt to the boardrooms of modern times, they have fought a covert war against the enemies of humankind. But now, after 5,000 years, their greatest battle is about to begin. A mysterious phone call sends six unlikely heroes to do battle against an unspeakable evil, even in the very heart of its power. The first of a new series, The Order of the Four Sons blends elements of sci-fi, fantasy, horror and adventure. It weaves the everyday world with a world of magic, technology, monsters and secret societies battling for the fate of the earth. Welcome to the Order. The world is not what it seems.
User reviews
There are no user reviews for this listing.