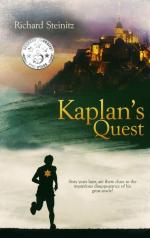 Publisher
Book Details
Published Date:
July 10, 2014
Original Title:
Kaplan's Quest
Returnable:
This item is Not Returnable
Contact
Email:
This email address is being protected from spambots. You need JavaScript enabled to view it.
The disappearance of his great-uncle Samuel during World War II has shaped the life of the young university lecturer, Shmulik Kaplan. As part of his Master's Thesis on the history of Germany between the wars, he sets out to try and discover what happened to his uncle – an outstanding athlete who managed to leave Germany in 1935, and yet incomprehensibly, returned to Berlin, and then vanished without a trace. From his book lined office at the Hebrew University in Jerusalem, to Berlin and to Mont St. Michel in France, and through the dusty WW II archives of the German army, the quest takes him on a rollercoaster journey of personal discovery and emotion. The search uncovers events and materials that no-one had ever heard of before, or seen, since the days of the German occupation of France.
User reviews
There are no user reviews for this listing.