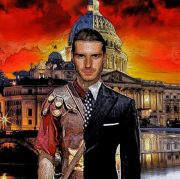 The Children of Cain: House of Dvanaesti
Hot
Book Details
Published Date:
June 20, 2015
Original Title:
The Children of Cain: House of Dvanaesti
Returnable:
This item is Not Returnable
Contact
Email:
This email address is being protected from spambots. You need JavaScript enabled to view it.
After ten years of political dirt-digging, Gabriel Hawthorne was accustomed to unearthing all the usual skeletons. But this time, the skeletons are covered in the inhuman flesh of vampires who have walked the earth for almost as long as man has. An ancient and secret society dedicated to the destruction of the vampires, and finally possessing the technology to realize that purpose, forces its own demands upon Gabriel: He can be a willing prisoner or unwilling sacrifice to their cause. And after the brutal murder of his friend and business associate, as well as the attempts on his own life by friend and foe, Gabriel learns there are fates far more worse than death.
User reviews
There are no user reviews for this listing.