Beautifully Imperfect
Hot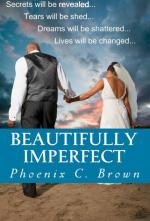 Book Details
Published Date:
March 30, 2012
Returnable:
This item is Not Returnable
Rebecca Thomas is living the American dream. She's successful, beautiful and married to her high school sweetheart. Life wasn't perfect but it was close enough. At least that's what she thought until she received the phone call that would send her world spiraling down. Malik Thomas has never been one to be faithful. It's not that he doesn't love his wife but papa was a rolling stone and the apple didn't fall far from the tree. His motto was "a man's got to do what a man's got to do". That's until his past catches up to him and jeopardizes his future. Natalie Hunter's social life is low but her bank account is high. As the owner of Hunter Enterprises her focus is finding and hiring nothing but the best for her agency. When she meets Jennifer she knows that she has hit the jackpot. Unfortunately Jennifer's past may leave them both in a bad predicament. Jennifer Nilon is on the verge of becoming the successful model that she has always dreamed of. Not only is her career about to flourish but so was her relationship with Malik. The two things she loves more than anything in the world are within her grasp. Then an unexpected surprise threatens to derail everything and forces Jennifer to make some life altering decisions for them both. Beautifully Imperfect follows the lives of these four people as their worlds collide with such force, that they're all left picking up the pieces.
Editor review
Character Development
3.5
I was in need of change of pace from the typical "urban fiction" and this is what was right before me. Phoenix told a story that was undoubtedly Beautifully Perfect. My favorite line from her book just happened to be "I guess that's what makes our situation beautifully imperfect." She said. "We finally have a beautiful child but sadly it's an imperfect situation." Don't sleep on Phoenix, I'm sure there is more to come.. waiting on her next addition to my library.
User reviews
There are no user reviews for this listing.