Drinking the Poison and Waiting on Your Neighbor to Die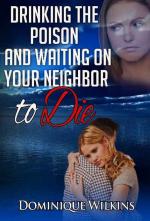 Book Details
Published Date:
October 30, 2014
Returnable:
This item is Not Returnable
Kaleena Jones had a neighbor who couldn't breathe without exhaling hatred. Everything that Kaleena did or tried to do was a problem for her neighbor, Savannah. Savannah tried desperately to sabotage Kaleena's love life and reputation, to make herself feel better. She hated everything about the Jones' and wouldn't be satisfied until they moved back to wherever they came from. But Kaleena wasn't making it easy. Hating is tough when no one wants to acknowledge it or reciprocate it. So, will Savannah give it up or kick it up a notch? (A complete novella)
User reviews
There are no user reviews for this listing.