Riad: The Literature of Interercourse & Dumping-For Those Godliness Spouses
Riad: The Literature of Interercourse & Dumping-For Those Godliness Spouses
Hot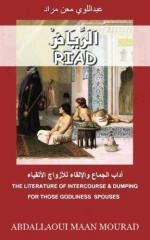 Book Details
Published Date:
August 04, 2014
Returnable:
This item is Not Returnable
This is book explores the subject of sex education, between couples, The depth of the sexual relationship, accessible way. And how to enjoying with your partner. Addresses the issue of Arabs and sex, the book explains everything you want to know about sexual behavior and misconception about sex behavior, all these by straightforward language. Information is balanced, and its derived from references, and real events. The authors speak plainly and openly about a sex subject.
User reviews
There are no user reviews for this listing.