From New York to the Smokies
Hot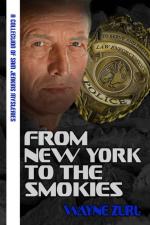 Book Details
E-Book ISBN:
978-1680460797
Setting:
Long Island, NY and East Tennessee
Published Date:
April 16, 2015
Original Title:
From New York to the Smokies, A Collection of Sam Jenkins Mysteries
Returnable:
This item is Not Returnable
Contact
Email:
This email address is being protected from spambots. You need JavaScript enabled to view it.
Five mysteries spanning more than four decades in the life of career police officer Sam Jenkins. THE BOAT TO PRISON—set in 1963 when a teenaged Jenkins and his friends attempt to foil a plot to kill a Long Island union leader and keep Sam's shop steward father from doing hard time. FAVORS drops readers into a New York of 1985 when Lieutenant Sam Jenkins mounts an unofficial investigation to learn why one of his civilian employees isn't overjoyed about her promotion to police officer and uncovers a history of unreported and unspeakable crimes. ODE TO WILLIE JOE, ANGEL OF THE LORD, and MASSACRE AT BIG BEAR CREEK brings the reader up to date with three adventures of Chief Jenkins and the officers of Prospect PD, a police department serving a small town in the Great Smoky Mountains of east Tennessee. UFO sightings, a serial killer on the loose, and the most brutal murders and feud between mountain folk since the Hatfields and McCoys pushes Sam to use every trick he's learned in a lifetime of detective work to resolve these incidents on his "peaceful side of the Smokies." THE BOAT TO PRISON Seventeen-year-old Sam Jenkins is busy fishing and falling in love with a girl named Kate. But with a father involved with the union and a divorced mother, Sam often finds himself acting like the adult of the family. During a fishing trip off Long Island, Sam overhears a conversation involving dangerous plans that can land his dad in jail. To keep his father out of prison, Sam teams up with detectives from the county's rackets bureau and enlists the help of two friends to pull off an operation far beyond their usual high school curriculum. FAVORS Police community Service Aide Liz Lopez should be in fine spirits—she's in line for a promotion to police officer and a raise. But her sullen demeanor tells her boss, Lieutenant Sam Jenkins, that Liz is anything but happy. Jenkins begins an unofficial investigation to find out what's going on. The detective learns of a bizarre home life and a dark secret Liz keeps under wraps. FAVORS is a story of how the police take care of their own—in an honest and compassionate way. ANGEL OF THE LORD A killer is on the loose in Prospect, Tennessee. He strikes repeatedly, each time leaving a cryptic message for the police to find. By the time a fifth body turns up, Police Chief Sam Jenkins is under pressure—either solve the murders or bring in outside help. But the chief's ego won't allow others to work his cases. And at the eleventh hour he tracks down a prime suspect, but death is only seconds away for the next victim. MASSACRE AT BIG BEAR CREEK A misunderstanding between hunters rapidly escalates into a battle not seen in Southern Appalachia since the Hatfield and McCoy feud. As bodies pile up faster than evidence, Sam Jenkins and the officers of Prospect PD scour the remote hills and valleys of East Tennessee and North Carolina to solve a case that reads more like an old west adventure than a modern police drama. ODE TO WILLIE JOE Prospect, Tennessee Police Chief Sam Jenkins receives two reports of UFO sightings in three days. The gritty ex-New York detective doesn't believe in coincidence…or space aliens, but he can't find anything to explain a glowing spaceship and little green men—until he sends Sergeant Stan Rose and Officer Junior Huskey to Campbell's Woods. They call in a startling discovery, and the investigation begins
User reviews
There are no user reviews for this listing.