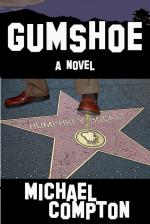 Book Details
Published Date:
July 31, 2015
Returnable:
This item is Not Returnable
Contact
Email:
This email address is being protected from spambots. You need JavaScript enabled to view it.
Nothing focuses the mind like being strapped to the electric chair. When an old flame steps out of the past to hire private eye Ellis York to find her missing millionaire boyfriend, he thinks it's easy money. Mysterious threats, deadly dames, and hired guns don't faze him. But when his quarry turns up dead, it's York in the hot seat. It's a situation that could only happen in a Hollywood movie, but as his last seconds tick away, York realizes he can't wisecrack his way out of this one. Then he gets a 10,000 volt brainstorm... Gumshoe is a fast-paced psychological noir that plays out against a nightmare landscape of 1940s Hollywood.
User reviews
There are no user reviews for this listing.