A Very Special Delivery
Hot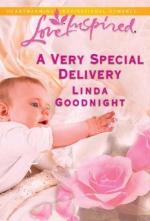 Book Details
Published Date:
May 01, 2006
Returnable:
This item is Not Returnable
It was the surprise of a lifetime for recluse Molly McCreight when single dad Ethan Hunter entrusted her with his infant daughter while he delivered medicine to an elderly man during an ice storm. Past experience had taught Molly how fragile life could be, but she was touched by this stranger's faith in her abilities. Once the storm had passed, though, and her guests returned home, normalcy eluded Molly. The Hunters' presence had brought much-needed joy to her quiet world, but their absence threatened to crush her forever. Still, was she ready to admit that this tiny family held the key to the future she'd always secretly craved?
User reviews
There are no user reviews for this listing.