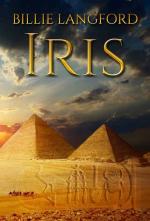 Book Details
Published Date:
June 20, 2013
Returnable:
This item is Not Returnable
Contact
Email:
This email address is being protected from spambots. You need JavaScript enabled to view it.
Iris Maddox is an Egyptology grad student whose life revolves around securing her career. Smart, beautiful, and funny, people like Iris, but she keeps everyone at arms length. Everything changes when an ancient ring triggers a vision that sends her life into a tailspin. Is it the symptom of a breakdown, or something more? Confused and lonely, she takes comfort in her colleague, Rob Marshall. Then, while visiting her brother, Jason, in New York, she catches the eye of his friend and benefactor, John Hale, and he's not subtle with his interest.
User reviews
There are no user reviews for this listing.