Rise to the Call (Cris De Niro, Book 3)
Hot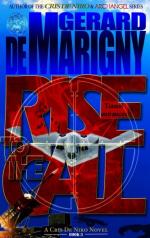 Book Details
E-Book ISBN:
2940014582926
Published Date:
July 19, 2012
Returnable:
This item is Not Returnable
A U.S. scientist assigned to a CIA-run, covert, overseas assignment goes missing. Meanwhile, while in Manhattan to ring the NY Stock Exchange bell, Cris De Niro is asked by the scientist's father, a childhood friend of his, to investigate. De Niro and The Watchman Agency soon uncover a secret Iranian-Russian alliance with deadly intentions. Iranian bio-terrorism, Russian espionage reaching into the White House, and the prospect of Iran emerging as a nuclear power are the threats. World War III could break out in the Middle East unless De Niro & Company can Rise to the Call … From author Gerard de Marigny, creator of the #1 Amazon-Bestselling Geopolitical CRIS DE NIRO thriller series! CRIS DE NIRO series: Book 1 - _The Watchman of Ephraim_ Book 2 - _Signs of War_ Book 3 - _Rise to the Call_ Book 4 - _Project 111_ (coming December 2012)
User reviews
There are no user reviews for this listing.