The Journal of the Red Skull (Pirates: The Lost Cove) (Volume 1)
The Journal of the Red Skull (Pirates: The Lost Cove) (Volume 1)
Hot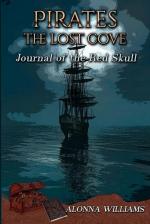 Book Details
Published Date:
December 01, 2014
Returnable:
This item is Not Returnable
Contact
Email:
This email address is being protected from spambots. You need JavaScript enabled to view it.
This is the story of Trevor Henderson, a high society boy who dreams of being a pirate one day; as he was growing up he loved hearing tales of famous pirates such as "BlackBeard" "Black Bart" "Anne Bonny" and many more. in the year 1786 Trevor's wish comes true and he gets to have an adventure in piracy of his own; when he boards a ship called "the Curly Casey" his journey begins, but he soon learns the shocking truth about his identity and history which leads him to the start of the adventure of a lifetime!
User reviews
There are no user reviews for this listing.