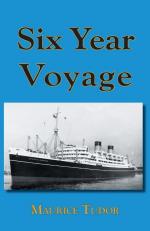 Book Details
Published Date:
June 24, 2013
Original Title:
Six Year Voyage
Returnable:
This item is Not Returnable
Contact
Email:
This email address is being protected from spambots. You need JavaScript enabled to view it.
Six Year Voyage - one man's tale of endurance in the Merchant Navy. Violence is as prevalent in everyday life today as it ever was hundreds of years ago, and it will never cease to blight the lives of humans and animals. Maurice Tudor's life has been violent and readers with a weak stomach be aware that, in order to convey the circumstances of the time, he has depicted some scenes in graphic, but nonetheless authentic detail. Maurice Tudor's years in the Merchant Navy are memorable and he vividly brings to life the experiences and enjoyment they brought him. This account of his seafaring days and escapades is, in the main, factual. However, some scenes and names have been changed.
User reviews
There are no user reviews for this listing.