Motivating boys to learn in school: Developing strategies for boys success
Motivating boys to learn in school: Developing strategies for boys success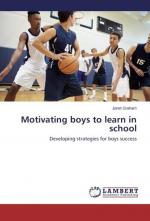 Book Details
Published Date:
October 20, 2014
Returnable:
This item is Not Returnable
Contact
Email:
This email address is being protected from spambots. You need JavaScript enabled to view it.
Janet Graham is a secondary school teacher and an education researcher interested in the achievement of boys. She is committed to bring about changes in the academic achievement of all boys such as White working class, Bangladeshi, Pakistani, African-Caribbean and Travelers who are currently underachieving and is developing mentoring packages for them. In recognising the fact that many boys from different cultural background: many of which are White working class, Bangladeshi, Pakistani, Travelers and African-Caribbean are underachieving in British schools across the country; Janet Graham argues that this can be changed with the implementation of strategies and policies which focus on the needs of boys and on motivating them to learn.
User reviews
There are no user reviews for this listing.