All Things That Matter Press
All Things That Matter Press
Hot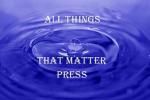 Contact
Email:
This email address is being protected from spambots. You need JavaScript enabled to view it.
BRINGING YOU NEW VOICES FOR A NEW ERA & A GROWING FAMILY OF GREAT AUTHORS & GREAT BOOKS ALL THINGS THAT MATTER PRESS, a no fee-royalty paying, POD small press, seeks to publish those books that help the author share their Self with the world. We all have something to say, and this is a press that wants to hear your voice. Our interests are on spiritual, self-growth, personal transformation, fiction and non-fiction books with a strong message. We understand that self expression occurs in poetry, collections of short stories, science fiction, thrillers and even novels with a bit of romance. If it is good, we will take a look. We are not actively seeking children and young adult books but if it WOWs us, we will consider this genre. We understand that new authors have an increasingly difficult time in wading through the morass of agents, publishers, query letters, and marketing. ALL THINGS THAT MATTER PRESS may well be the place where you get your first book published. We all have to start somewhere. We are growing, and hope you will consider growing with us.
User reviews
3

reviews

Editing and Proofing

5.0 (3)

Marketing and Promotion

3.0 (3)
All Things That Matter really do
Marketing and Promotion
4.0
All in all a very good company to represent you and your work. They care and it shows!
Pros & Cons
Pros
Professional to deal with
Listen to problems and react to them
Quality book is produced
Very careful in editing and proofing of your product
The book covers they design represent the book's message to a tee.
Cons
Although they do some marketing most is the responsibility of the author
Because of the amount of manuscripts being accepted the turnaround time of the initial starting process is a little long, about 6 months. After the process starts, the turnaround time is very commendable.
Marketing and Promotion
2.0
After a dissatisfying experience with the publication of my first novel, I sought a new publisher and found a perfect fit with All Things That Matter Press. These are people who do not make business decisions based solely on whether your work contains enough handsome werewolves or vampires to become a bestseller, but rather whether your work offers the world something of genuine literary value. They walk you through the steps of the publishing process and maintain a community feel among their authors after you are published, allowing opportunities for cross promotion and a bevy of marketing tips to help you get your name out there. I couldn't have asked for more from an independent publisher!

Jeff Gephart, author of 'Out of Dark Places'
www.jeffgephartwriting.com
Pros & Cons
Pros
Acceptance of submitted material is based on the quality of the material, not its marketability.

Communication is outstanding--they are reliably available to answer questions and offer advice promptly.

Allows authors to maintain flexibility and control throughout the creation and editing processes.

Paperback and electronic availability on all major online retailers.

Outstanding royalty rates!

Deals with authors fairly, openly, with integrity.
Cons
Not able to provide the marketing services of a larger publisher, so this responsibility falls to the author, but this fact is made clear ahead of time and is industry standard for smaller indie publishing houses.
Marketing and Promotion
3.0
I had the pleasure of being published by Allthingsthatmatterspress after having a terrible experience with other POD publishers.It left a very sour taste in my mouth to say the least.

After ATTMP offered me a contract, I found them to be professional and truthful in all they represented in their contract. The editor spent days going through my manuscript before it was sent off to press. Many of the authors with ATTMP are supportive, sharing sites, links, ideas and marketing tips. It actually feels more as a family than a business contract.

I recommend ATTMP to you, especially any new authors wishing to get their first book published. Mind you, not every book is accepted by ATTMP, unlike some other POD publishers. The author's books I've read, which are many, have been of the highest quality and I have enjoyed each and every story.

Monica M. Brinkman,
Author of 'The Turn of the Karmic Wheel'
Pros & Cons
Pros
Authors who write books which the major Traditional Publishers reject due to genre will find ATTMP open to their work. If Phil & Deb Harris fall in love with your story, they will take you on as a client.

ATTMP edits your book, taking great time and effort to insure it is ready for the press.

ATTMP provides information, marketing ideas, promotional tools on an almost daily basis, they do not publish your book and then forget about you as an author.

ATTMP makes certain they place your work in as many book sites/stores on the internet as possible; you are not limited to Amazon.

ATTMP provides both paperback & e-book of your work

ATTMP pays authors royalties off the sales of their books; they do not charge any type of upfront fee to have your book edited, created and publishd


Cons
As with most small publishers, you will be the person marketing and promoting your book.