The Writer's Life 4/25
I'd first heard about Cowboys and Aliens (2011), months before its release, through a survey site, where I was asked to rate a two-minute trailer. At first I scoffed at the title. Then I thought: Why not? Who's to say when, where, if we've ever been visited? Why not the old west? The trailer looked great, as even those of the worst films frequently do. I was disappointed when critics panned and the U.S. public ignored the film. So it was with reservations that I added it to my Netflix list. I enjoyed the first hour, but smirked when what the aliens were seeking was revealed. Although the cast was solid, it was not required to do much. It was standard action fare, although I must say the fighting sequences were excellent. This was the first time I've experienced the work of Olivia Wilde, whose beauty frequently graces the pages of the NY Post. Her skills could not be assessed in such an undemanding, silly role. And I was too mesmerized by her bewitching eyes to pay attention to much else. As for old favorite Harrison Ford, there were a few instances where I thought this had to be his worst performance. Seasoned pros Clancy Brown and Keith Carradine lend able to support. Daniel Craig is in phenomenal shape, seemingly carrying as little body fat as humanly possible. He must work out like a madman. Overall, the flick was a better option than spinning around the remote for two hours, watching bits and pieces of shows I'm not interested or have already seen. The folks at IMDb rate it 6.2 out of ten. Although the movie flopped in America, it ended with a small profit worldwide. There was an oddity I hadn't encountered previously on the DVD. When I tried to access the bonus material, a message popped up saying it was available only on the Blue Ray version. I thought that was bush league. On a scale of five, I rate Cowboys and Aliens two-and-a-half.
A dead whale washed up on the shores of Puget Sound in the state of Washington. An autopsy was performed. There was, among other debris, a golf ball in its stomach. Although there was no word that it was a Titleist, we now know where Cosmo Kramer has gone. Apparently he's still using the ocean as a driving range. In the words of George Costanza: "The sea was angry that day, my friends."
The floating book shop had a great day. I didn't sell any of my books, but a young woman bought six James Patterson hard covers, Lev purchased four others, and several other people contributed to the cause. Thanks, folks. There was one troublesome aspect. Morty, a retired salesmen in his late 70's, visited and told me he is to begin radiation treatment to shrink a growth beneath the right side of his jaw. I warned him of the fatigue a friend and my brother in law experienced during the process. I didn't have the heart to tell him how it affected their ability to think. Despite his age, Morty is energetic and sharp. I wish him the best. Also, another senior, a female cancer survivor using a walker, who faces operations on her legs, told me she was going home to smoke a joint to reduce the stress she was feeling. We both laughed.
Finally, my buddy Bags pulled his car up to the curb, popped out, and took a picture of the floating book shop in its usual nook. It looks even better enlarged. And here it is: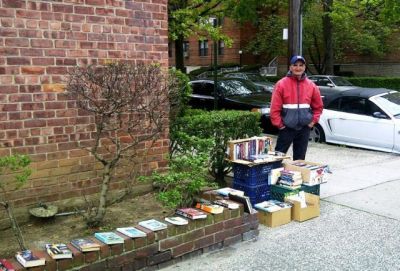 Read Vic's stories, free: http://members.tripod.com/vic_fortezza/Literature/
Stay Informed
When you subscribe to the blog, we will send you an e-mail when there are new updates on the site so you wouldn't miss them.
Comments
No comments made yet. Be the first to submit a comment