Wicked Design - Book Review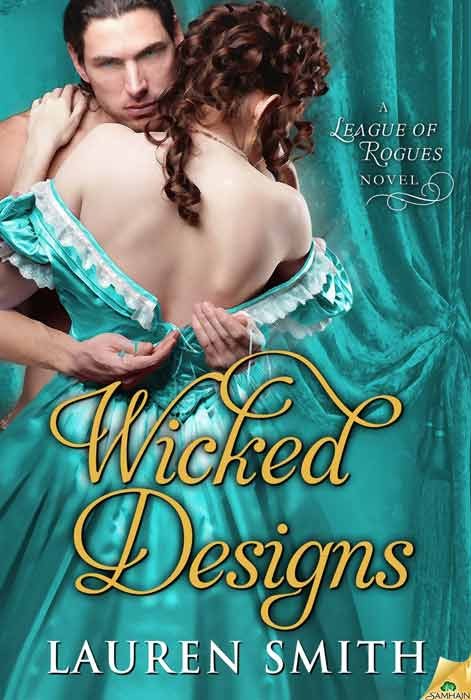 This was actually the first book and the one that I should have been reading before His Wicked Seduction. So this is how it went down in the beginning. You meet Emily Parr who is desperate to find a husband on her own so that she can get away from her uncle and the person her uncle has a debt to, Blankenship. While riding, she ends up getting kidnapped by the League of Rogues and one of them has a pretty solid reason for doing this. When Emily comes to she finds herself in a home that is not her own and realizes that she is not going anywhere. That doesn't stop her from realizing how hard this man can be and also how soft. What I loved about Godric is that he was very blunt at the same time respectful. Don't get it twisted he does want her but he's respectful enough to not let it go too far. Being held in that house does not help Emily, it actually ruins her because of the Leagues reputation.
Emily eventually ends up meeting all the Rogues and starts to have turmoil in her mind about how she is going to get out of this situation at the same time she is slightly comfortable around them. Godric is having a hard time trying to seduce her, but he finds himself wanting as something more than mistress.
He just can't figure out what. Godric later on realizes he is not just dealing with a ditzy woman who just gives in to the demands of men. Emily almost escapes a time or two, but Godric manages to outwit her. The five men feel like this abduction of Emily is getting out of hand and start to abide by this strict code of theirs.
All I got to say about Blankenship is that I don't like him. He is making Emily pay for something that her mother did which I thought was stupid, but oh the mind of a man can be a dangerous place sometimes. He ends up going to Godric house and finding nothing and for good reason. Afterward,
Emily and Godric start to feel this pull towards each other, but once again we are denying all these feeling and playing with people's heart. Godric starts to up his game with Emily and comes up with this deal that leaves her swooning in a good way. The deal was basically designed to stop her from escaping but there is a little twist to it that had me grinning because I would not have thought of that. Emily finds herself forgiving these guy for kidnapping and actually start to enjoy their company.
Blankenship seems to have different plans that catches the ears of Hugo Waverly and he inadvertly give Blankenship some help in getting Emily out of the Essex house. With first sighting of Waverly, you also get to see a smidgen of reason as to why these five gentleman are on his hit list.
At this point, Godric and Emily have all this lust for another and we finally decide to act on it, but the outcome of it made me sad. Godric loves Emily but feels he is unworthy and Emily feels a smidgen of guilt over it because she did what all, well most women do when they give their part of their body to someone. She fell for him and very deeply. I gotta admit though all the games and the escape efforts between these this couple were very funny. Waverly's puppet start to pull the strings and gets the former mistress of Godric to go into his house and find out where Emily is being hidden.
Emily gets more than she bargained for out of this mistress and learns why she is really there and the threat on men that she come to see as friends. Her next escape attempt works and I was so sad she made that choice, but she had to make them. Godric does not feel the same way though when he catches up with her. Let's just say feeling are hurt and realization come to this dramatic conclusion.
Book Details
Book Listing
Title: Wicked Designs
Author: Lauren Smith
Publisher: Samhain Publishing
Published Date: January 06, 2015
ISBN-10: 1619223155
ISBN-13: 978-1619223158
ASIN: B00H54X8EY
Stay Informed
When you subscribe to the blog, we will send you an e-mail when there are new updates on the site so you wouldn't miss them.
Comments
No comments made yet. Be the first to submit a comment