BROKEN PROMISE By V. BROWN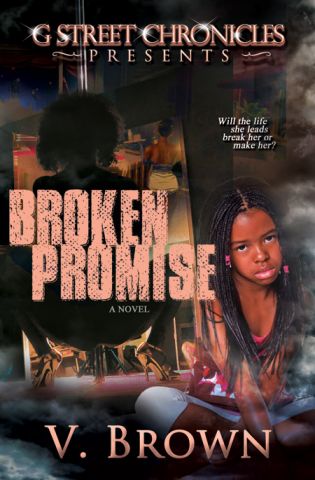 As a child Promise Brown lived the life that every girl in the ghetto would have loved to live. Her parents, Sweet Pea and Biggs, were the head of a fledging drug empire that stretched from coast to coast. They were way passed hood rich but refused to leave the hood—the same place that contributed to their downfall. The hood bred jealousy and envy which would ultimately affect the Brown's livelihood.

Just when Promise had gotten use to the good life things went downhill. Her parents were arrested and later imprisoned because of a snitch who hid behind false pretenses causing DEFACS to step in and make her a ward of the state.
Now all she wants is out! Escaping the clutches of the system, Promise runs back to her old hood. There she runs into her mother's childhood friend's nephew and together they devise a way to get paid.

Promise never imagined she would end up engulfed in a world of stripping and escort services. She took it all in stride for the love of the money but will the life she lead make her or break her?
IT'S ONLY .99
http://www.amazon.com/Broken-Promise-ebook/dp/B0081C6DLY/ref=sr_1_1?ie=UTF8&qid=1340856863&sr=8-1
Stay Informed
When you subscribe to the blog, we will send you an e-mail when there are new updates on the site so you wouldn't miss them.
Comments
No comments made yet. Be the first to submit a comment